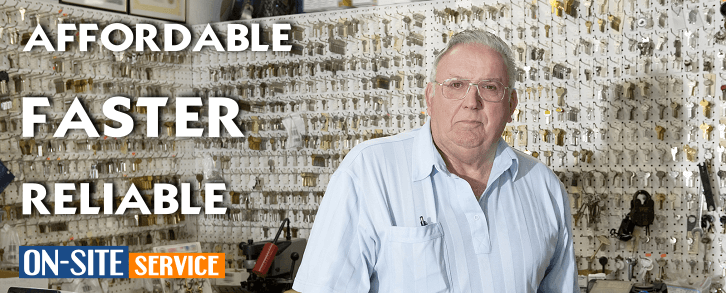 The Melbourne FL Locksmith Team is a group of full-service locksmiths who serve Melbourne, Florida and all cities within 30 miles of it. What is better than to have a mobile locksmith service right at your doorstep when you're in a jam? That is what our team is all about! They can be called in the middle of the night to change locks or early in the morning to unlock your car, either way, we come to you! By being able to serve 24 hours a day at a decent price range, the Melbourne FL Locksmith Team is gaining the client's trust and respect all over the city. There is nothing we love more than to see a client pull out his smartphone and save the number (321) 252-0131 for a rainy day when the job ended! It has been more than a decade since we got into the Melbourne FL locksmith business (2004). We've seen different jobs of all kinds from a simple car lockout to a safe picking and repair, there is no door lock we can't pop. Regardless of your needs, you can count on us to be quick and useful when searching for the best 24 hr locksmith service money can buy.
About Melbourne FL Locksmith Services
If you're looking for an All-In-One locksmith in Melbourne, FL, you are in the right place! We can handle just about any need you have which is lock or key related. Our trusted locksmith is passionate about providing you with quality products and services to ensure your complete satisfaction. From our point of view, a great Melbourne FL locksmith is a one who knows what kind of questions to ask the client before he even starts working on his locks. Do you rather repair the locks instead of changing them? Who might have spare keys to your back door? These are all questions any house locksmith has to ask. Each and every one of you has different demands and we have to apply ourselves to fulfill them. At Locksmith Melbourne FL, there is no one solution to your problem. Hence, our team works really hard with each of you to find out the best way possible to meet your needs. Like any other major locksmith company, we control the 3 aspects of service that include:
Residential Locksmith Services
When searching for a mobile locksmith in the home division, it's crucial to call in a lock smith you can trust. The person who deals with your home security issues must be none other than an expert at his field. Sadly, there are a lot of locksmiths in Melbourne, FL that take this job as an after work gig, unlock houses by breaking door locks and install brand new locks without any knowledge of how to do it the proper way. Our Melbourne FL locksmith service has been proven for years to be the safest name in this business. We work safely to make sure there are no mistakes and your family is secured at all times. Only a home locksmith expert can give you the peace of mind you need, so don't settle for an amateur when the Melbourne FL Locksmith Team is right around the corner!
Auto Locksmith Services
In case you didn't know, not every Melbourne FL locksmith provides auto services as car unlocks and auto key making. In fact, some locksmiths will turn you down right away when you're locked out of your car or need to extract keys from the ignition. On the other hand, other Melbourne locksmiths practice the auto locksmith field alone, helping people with vehicle lockouts and car keys made, but you can't count on them for help when you want to rekey a lock at your home. That is why we hired an expert car locksmith in Melbourne, FL to help with any roadside trouble you might be in! He is well-trained and equipped to make car keys, pop car locks and even repair the ignition switch in just a few minutes.
Commercial Locksmith Services
Whether you need to replace locks or rekey your business, our 24 hour locksmith will be glad to be there in 20 minutes to check it out! While we handle a lot of major business locksmith projects for our long time clients all over Melbourne, we'll never say no to a fellow businessman when he has a simpler job in mind. No matter how complex or simple your requests are, our locksmith can offer you his help with any lock replacement or change that needs to be done. The Melbourne FL locksmith team works with all kinds of office buildings and stores in the city, and they can do it all from installing keypad locks to push bars and deadbolts repair.
All-In-One Locksmiths Melbourne FL
It's kind of nice to have an all-in-one 24 hr locksmith by your side, knowing you can end any lock or key incident with one phone call. So the next time you're locked out of your house, car or office, don't type the words "locksmith near me" on Bing or Google and call the first ad you see. Instead, save the number (321) 252-0131 in your speed dial and contact us for the best Melbourne FL locksmith service available online!